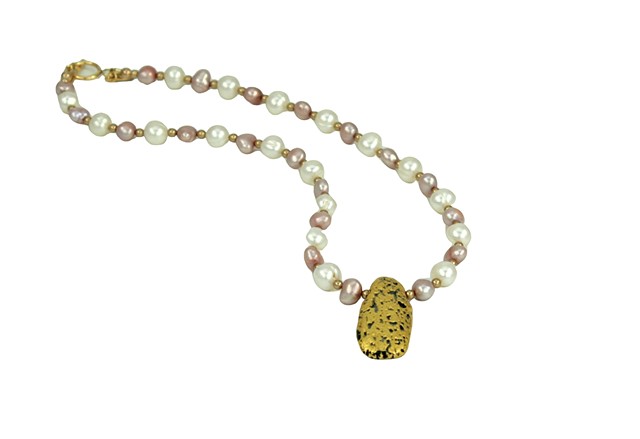 In The Pink Pearl and Gold Gilded Necklace

Necklace in 23-Karat Gold Leaf on Lava, Freshwater Pearls, Gold Swarovski Pearls, and 14-Karat Gold-Filled Toggle Clasp
Gilded Jewelry
17" (43.18cm)
In The Pink Pearl and Gold Gilded Necklace
23-Karat Gold Leaf on Lava, Freshwater Pearls, Gold Swarovski Pearls, and 14-Karat Gold-Filled Toggle Clasp
This freshwater pink and white pearl necklace is feminine and delicate, and has my signature hand-gilded 23-Karat gold leaf on a lava stone pendant that is 1.5" (3.81cm) long and about .75" (1.905cm) at the widest width. I have added small gold Swarovski pearls, and the necklace is finished with a 14-Karat gold-filled toggle clasp along with my signature tag.
This is a attractive necklace for any occasion, and I just love the pastel color of the pink pearls with white and gold..
The necklace measures 17" (43.18cm)
***My gilded jewelry pieces are all one-of-a-kind. My signature gilded stone or glass beads are gilded with 23-Karat yellow gold, white gold, copper or silver leaf. This process has several layers, and is protected with a gloss finish. Precious and semi-precious stones are always a part of these designs, and commissions are always welcome.
For Purchase and See More Pictures - Click Link:
www.etsy.com/listing/522115396/gold-and…
Sign up for free updates, jewelry news, Jan's Gems tips and more on my contact page
janmaitland.com/contact.html
For questions on pricing or custom orders please email: jan@janmaitland.com