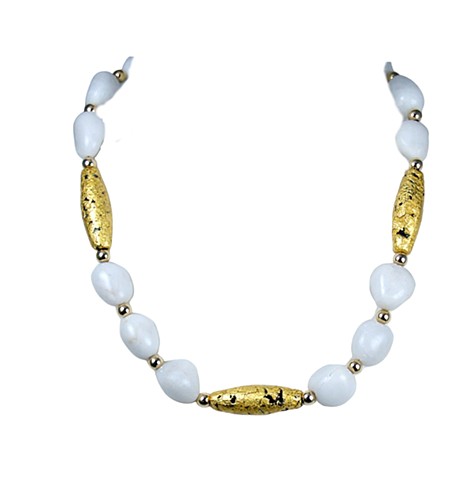 Elegance In White Aventurine and Gold Gilded Necklace

Necklace in 23-Karat Gold Leaf on Lava Stone, White Aventurine, and Gold Beads
Gilded Jewelry
19" (48.26cm)
Elegance In White Aventurine and Gold Gilded Necklace
23-Karat Gold Leaf on Lava Stone, White Aventurine, and Gold Beads
Feel attractive in white and gold on that long awaited get-away. My process is hand-gilded 23-karat gold leaf on the oblong lava stone, with white aventurine, 14-Karat gold-filled toggle clasp and my designer signature tag.©
Measures 19" (48.26cm)
White Aventurine is a mirror to the soul.
My wearable art designs are all one-of-a-kind. Each jewelry piece is hand gilded on stone or glass with either 23-Karat gold, white gold or silver leaf. These unique hand gilded stones or glass beads are accompanied by precious gems, semi-precious gems, gold and sterling silver.
Ready to Ship in a Lovely Gift Box with Bow. . .
For Purchase and See More Pictures - Click Link:
www.etsy.com/listing/529923813/gold-and…
Sign up for free updates, jewelry news, Jan's Gems tips and more on my contact page
janmaitland.com/contact.html
For questions on pricing or custom orders please email: jan@janmaitland.com