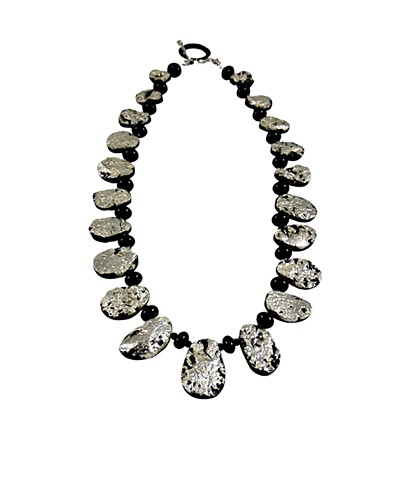 In the Moonlight Onyx and White Gold Gilded Tektite Necklace

White Gold leaf on Tektite, Onyx, Spinel, and Sterling Silver
Gilded Jewelry
22" (55.88cm)
In The Moonlight Onyx and White Gold Gilded Tektite Necklace
Hand-gilded white gold leaf on tektite, onyx, spinel, sterling silver toggle clasp, and the artist's designer signature tag.
Measures 22" (55.88cm)
A stunning statement piece!
The word tektite comes from the Greek word "tektos" which means molten. Whether the meteorite explodes in the air or upon impact, what we call tektite stone is thrown out from the explosive force.
For Purchase and See More Pictures - Click Link:
www.etsy.com/listing/257114894/white-go…
Sign up for free updates, jewelry news, Jan's Gems tips and more on my contact page
janmaitland.com/contact.html
For questions on pricing or custom orders please email: jan@janmaitland.com