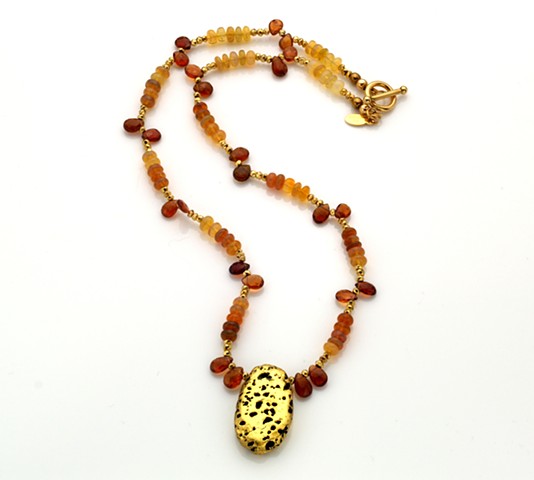 Fireside Chat Fire Opals and Orange Sapphires Necklace

23-Karat Gold on Stone, Opals, Sapphires, Pyrite
Gilded Lava Stone Jewelry
19" (48.26cm)
Fireside Chat Fire Opals and Orange Sapphires Necklace
My "Fireside Chat" necklace is a gorgeous mix of my hand-gilded 23-Karat gold leaf on lava stone centerpiece pendant, spectacular fire opals, sparkly orange faceted briolette sapphires, elegant pyrite, 14-Karat gold-filled toggle clasp, and my designer signature tag.
I love how the opals glow, and the sapphires sparkle . . . making this a special necklace for any occasion. Perfect gift for a loved one.
Necklace measures 19" (48.26cm) and pendant measures 1" (2.54cm) long x .75" (1.905cm) wide
***My wearable art designs are all one-of-a-kind. Each jewelry piece is hand-gilded on stone or glass with either 23-Karat gold, white gold or silver leaf. These unique hand gilded stones or glass beads are accompanied by precious gems, semi-precious gems, gold and sterling silver.
Ready to Ship in a Lovely Gift Box and Bow. . .
For Purchase and See More Pictures - Click Link:
www.etsy.com/listing/220191422/gold-on-…
Sign up for free updates, jewelry news, Jan's Gems tips and more on my contact page
janmaitland.com/contact.html
For questions on pricing or custom orders please email: jan@janmaitland.com