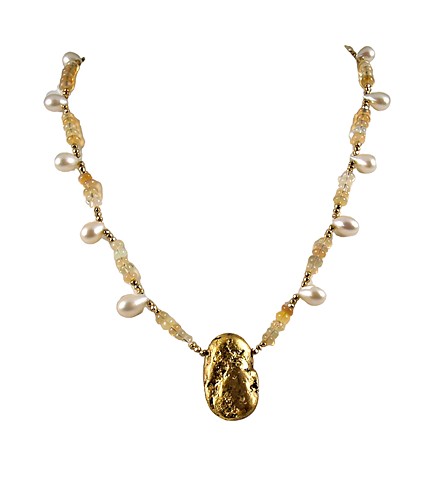 Aria Fire Opal and Teardrop Pearl Necklace

Hand-gilded 23-Karat Gold Leaf on Lava Stone, Opals, Pearls, and Pyrite.
Gilded Lava Stone Jewelry
19" (48.26cm)
Aria Fire Opal and Teardrop Pearl Necklace
My "Aria" Necklace has the elegance and grace for the bride, mother-of-the-bride, or for your next dressy occasion. You will be radiant wearing this design that has a hand-gilded 23-Karat gold leafed lava stone pendent, opulent opals, luminescent teardrop pearls, and golden pyrite. The necklace is finished with a 14 Karat gold-filled toggle clasp along with my designer tag.
Measures 19" (48.26cm)
I love the texture of the gold on lava stone. It looks like a large nugget, but light and comfortable to wear.
Opal is a stone of inspiration which enhances imagination and creativity.
Ready to Ship in a Lovely Gift Box and Bow. . .
My wearable art designs are all one-of-a-kind. Each jewelry piece has hand-gilded stone or glass using either 23-Karat gold, white gold or silver leaf. These unique hand gilded stones or glass beads are accompanied by precious gems, semi-precious gems, gold and sterling silver.
For Purchase and See More Pictures - Click Link:
www.etsy.com/listing/220192777/gold-lav…
Sign up for free updates, jewelry news, Jan's Gems tips and more on my contact page
janmaitland.com/contact.html
For questions on pricing or custom orders please email: jan@janmaitland.com