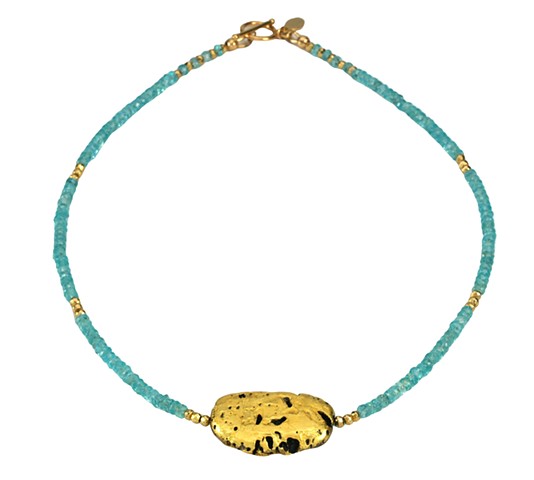 Mar Azul Blue Apatite and Gold Necklace

23-Karat Gold Leaf on Lava Stone, Apatite, and 24-Karat over Pyrite
Gilded Jewelry
17" (43.18cm)
Mar Azul Blue Apatite and Gold Necklace
Hand-gilded lava stone with 23-Karat gold leaf, apatite, 24-Karat gold-plated pyrite, 14-Karat gold-filled toggle clasp, and artist's signature tag.
The necklace measures 17" (43.18cm)
My wearable art designs are all one-of-a-kind. Each jewelry piece is hand-gilded on stone or glass with either 23-Karat gold, white gold or silver leaf. These unique hand gilded stones or glass beads are accompanied by precious gems, semi-precious gems, gold and sterling silver.
Apatite is a stone that mystically can stimulate thoughts and ideas. It is used, often in conjunction with meditation, to increase intellect, imagination, and intuitive psychic awareness.
For Purchase and See More Pictures - Click Link:
www.etsy.com/listing/231475534/gold-and…
Sign up for free updates, jewelry news, Jan's Gems tips and more on my contact page
janmaitland.com/contact.html
For questions on pricing or custom orders please email: jan@janmaitland.com