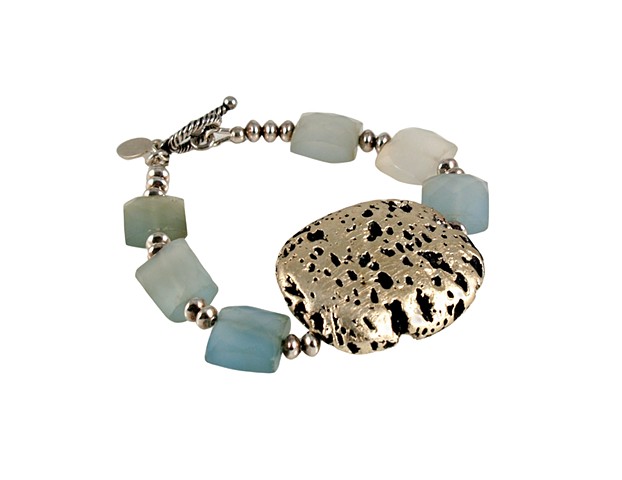 Baby Blue Chalcedony and White Gold Bracelet

White Gold Leaf over Lava Stone
Gilded Jewelry
8" (20.32cm)
Baby Blue Chalcedony and White Gold Bracelet
Chalcedony and White Gold Leaf on Lava with Sterling Silver
My "Baby Blue" bracelet is hand-gilded volcanic lava stone with white gold leaf, chalcedony, sterling silver saucer beads, sterling silver toggle clasp along with my signature tag. It is light and comfortable to wear.
The bracelet measures 8" (20.32cm)
Ready to Ship in a Lovely Gift Box and Bow. . .
My wearable art designs are all one-of-a-kind. Each jewelry piece has hand-gilded stone or glass using either 23-Karat gold, white gold or silver leaf. These unique hand gilded stones or glass beads are accompanied by precious gems, semi-precious gems, gold and sterling silver.
For Purchase and See More Pictures - Click Link:
www.etsy.com/listing/127986815/blue-cha…
Sign up for free updates, jewelry news, Jan's Gems tips and more on my contact page
janmaitland.com/contact.html
For questions on pricing or custom orders please email: jan@janmaitland.com