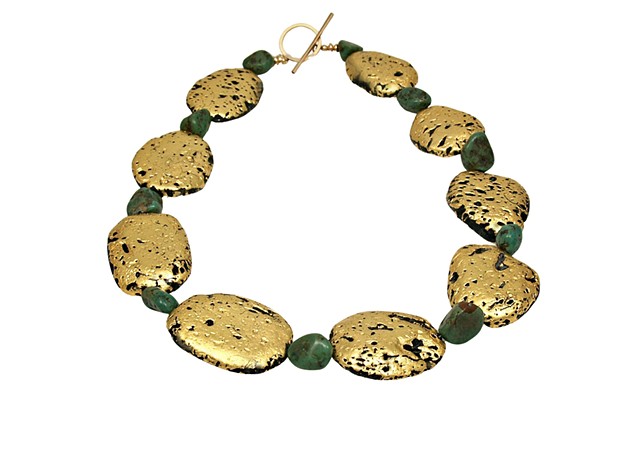 Turquoise Summer Green Turquoise and Gold Necklace

Necklace in 23-Karat Gold Leaf on Lava, and Green Turquoise

. . . Turquoise is a very personal and meaningful stone to the one who wears it . . .
Gilded Lava Stone Jewelry
19" (48.26cm)
Turquoise Summer Green Turquoise and Gold Necklace
My "Turquoise Summer" necklace suggests an evening on an Island where breezy palm trees whisper in the wind. Wearing this glowing gold necklace will make a lustrous statement for you, anywhere. I have hand-gilded the stunning volcanic lava stones with 23-Karat gold leaf, placing intriguing green turquoise in between each unique stone. The necklace is finished with a 14-Karat gold-filled toggle clasp along with my signature tag. The necklace lays well and is remarkably light.
The necklace measures 19" (48.26cm)
Each unique gilded stone measures approximately 1.5" (3.81cm) x 1" (2.54cm).
I just love the texture of the lava stone with the precious gold metal.
For Purchase and See More Pictures - Click Link:
www.etsy.com/listing/76026244/gold-and-…
Sign up for free updates, jewelry news, Jan's Gems tips and more on my contact page
janmaitland.com/contact.html
For questions on pricing or custom orders please email: jan@janmaitland.com