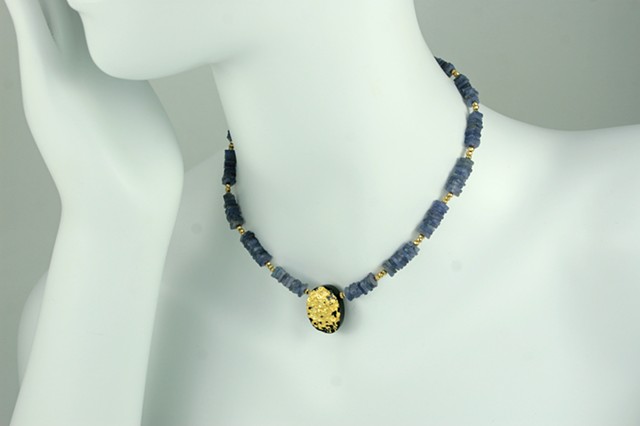 Cool Tempo Tanzanite and Gold Gilded Necklace

23-Karat Gold Leaf on Tektite Stone, Tanzanite, and Pyrite
Gilded Gold Jewelry
17" (43.18cm)
Cool Tempo Tanzanite and Gold Gilded Necklace
23-Karat Gold Leaf on Tektite Stone, Tanzanite, Pyrite, 14-Karat Gold-Filled Toggle Clasp
My "Cool Tempo" pendant necklace is inspired by a night of listening to smooth jazz. The hand-gilded 23-karat gold on the meteorological stone called, tektite, is both handsome and unique. The small but powerful stone is oval shaped, and is accompanied with gorgeous square-cut tanzanite, and the slight glow of gold pyrite beads. The necklace is finished with a 14-Karat gold-filled toggle clasp along with my signature tag.
Measures 17" (43.18cm) and the pendant is 1" (2.54cm) tall and .75" (190.5cm) wide.
I enjoy working with the rougher texture on the top of the tektite stone for laying the gold. The back is smooth, and feels good against the skin.
***The word tektite comes from the Greek word "tektos" which means molten. Whether the meteorite explodes in the air or upon impact, what we call tektite stone is thrown out from the explosive force.
***My wearable art designs are all one-of-a-kind. Each jewelry piece is hand-gilded on stone or glass with either 23-Karat gold, white gold or silver leaf. These unique hand gilded stones or glass beads are accompanied by precious gems, semi-precious gems, gold and sterling silver.
Ready to Ship in a Lovely Gift Box and Bow. . .
For Purchase and See More Pictures - Click Link:
www.etsy.com/listing/231474248/gold-and?
Sign up for free updates, jewelry news, Jan's Gems tips and more on my contact page
janmaitland.com/contact.html
For questions on pricing or custom orders please email: jan@janmaitland.com