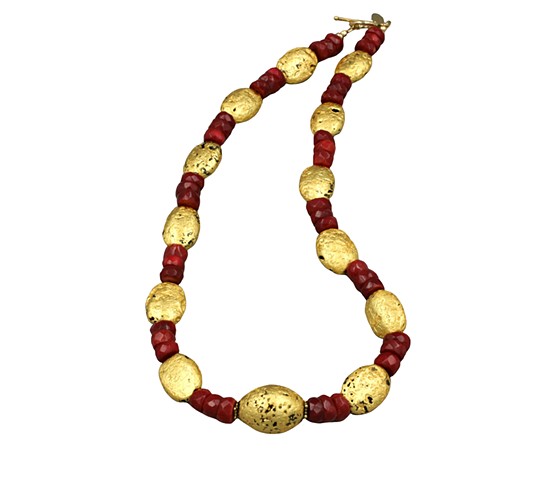 Perfect Harmony Red Coral and Gold Necklace

23-Karat Gold Gilded on Lava Stone, Coral
Gold Gilded Jewelry
18" (45.72cm)
Perfect Harmony Red Coral and Gold Necklace
23-Karat Gold Leaf on Stone, Faceted Coral
My "Perfect Harmony" Red Coral and Gold Necklace with the gold gilded stone is all about the illusion of wearing gold nuggets making a luxurious statement. I have gilded the unique volcanic stones with 23-Karat gold leaf. The rich faceted coral beads are elegant compliments to the gold. The necklace is finished with a 14-Karat gold-filled toggle clasp along with my signature tag. All my designs are one-of-a-kind wearable art.
The necklace measures 18" (45.72cm)
I just love the texture of the lava stone with the precious gold metal.
Ready to Ship in a Lovely Gift Box and Bow. . .